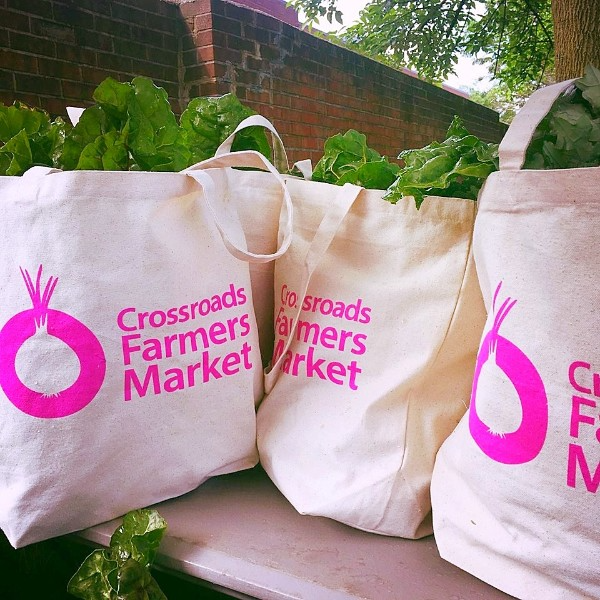 Our 2022 CSA is full. Sign up for our waitlist here.
Crossroads' 2022 Multi-Farm CSA FAQ
What is a CSA? 
CSA stands for Community Supported Agriculture, and it's a great way for community members to support and be a part of their local food system. CSA members are purchasing a "share" of local farmers' harvests, and during market season—from April 27 to November 23—they pick up their weekly boxes of fresh fruits and vegetables from one of a handful of convenient sites throughout Takoma Park, MD, and Takoma, DC. Typically, CSA members pay for an entire share of produce upfront, and this enables our farmers to plan for the season, purchase and plant new seeds, and cover other production costs.
Give me the basic rundown.
Basic shares include a "farmer's choice" of 4-6 types of vegetable items and 1-2 types of fruit items, equivalent to one-half bushel of produce.
Members can choose to add a bi-weekly share of eggs from the pasture-raised hens at Ladybrook Farm and/or a bi-weekly share of coffee beans locally roasted by Alcoba Coffee.  
What is the signup deadline? 
The last day to sign up is April 1, but last year, we sold out before our deadline, so don't wait until the last minute!
When and where can I pick up my share?
All shares are distributed on Wednesdays, and the pickup sites and times for 2022 are below.
Crossroads Farmers Market at Anne St., 11am-2pm
Hodges Ln. at Holly Ave., 2pm-9pm
316 Tulip Ave., 2pm-9pm
Takoma Village Cohousing, 6827 4th St. NW, 2pm-8pm
7406 Flower Ave., 2pm-9pm
8911 Walden Rd. (Silver Spring), 2pm-9pm
I'm not sure my household can use all the produce in a share. Do you offer smaller shares?
We only have one share option, but we can help find a neighbor to split your share with. Email Liz (lwhitehurst@crossroadscommunityfoodnetwork.org) and let us know! In the past, members have split shares by each picking up every other week or by splitting the produce between them each week.
Tell me more about the farms who grow the produce in the Crossroads' CSA.
Your CSA produce will come primarily from three local farms: Potomac Vegetable Farms, Full Cellar Farm, and Tuckey's Mountain Grown. We prioritize produce from farms that use organic practices and/or low-spray orchard methods. For more information about the production practices of Crossroads farmers, please visit their websites. We'd be happy to tell you more.
What's in the CSA?
During the height of the growing season—summer through early fall—you can expect your box to be full of a wide range of fresh, local fruits and vegetables. During spring and late fall, as the growing season is either gearing up or winding down, your box will still be as full but with perhaps a little less variety. Check out a few actual boxes below: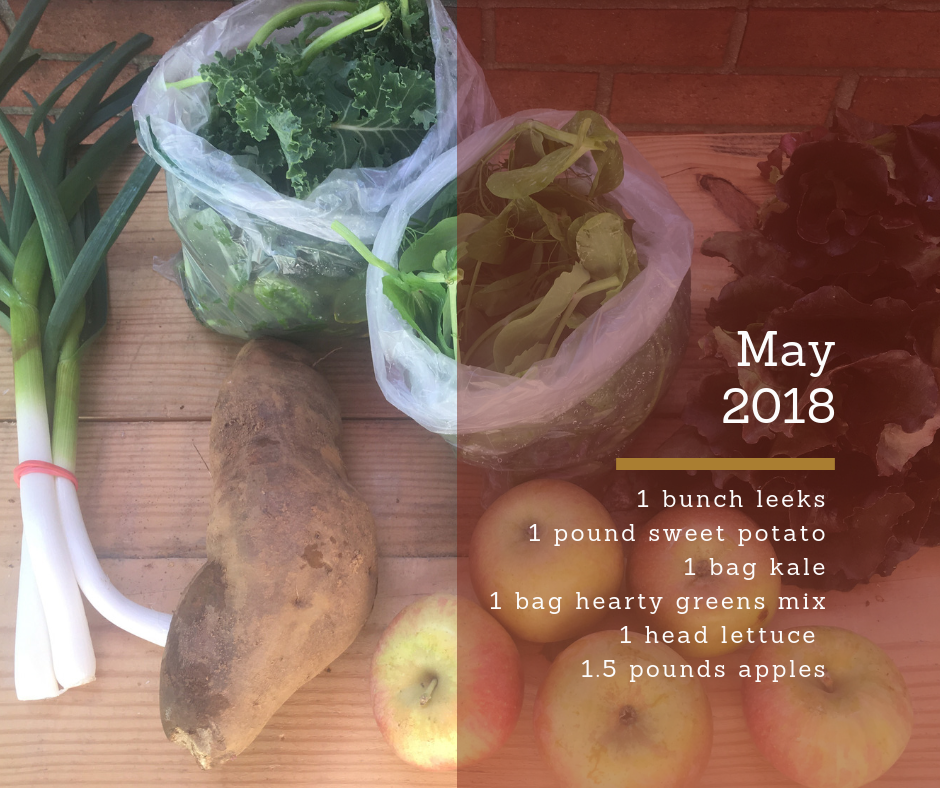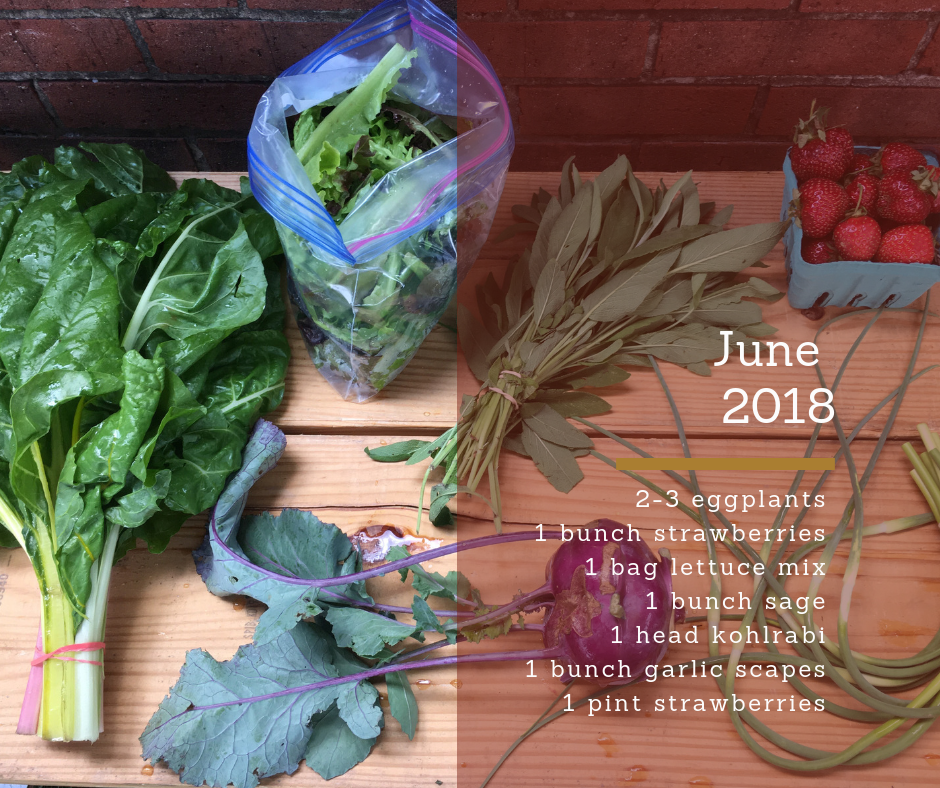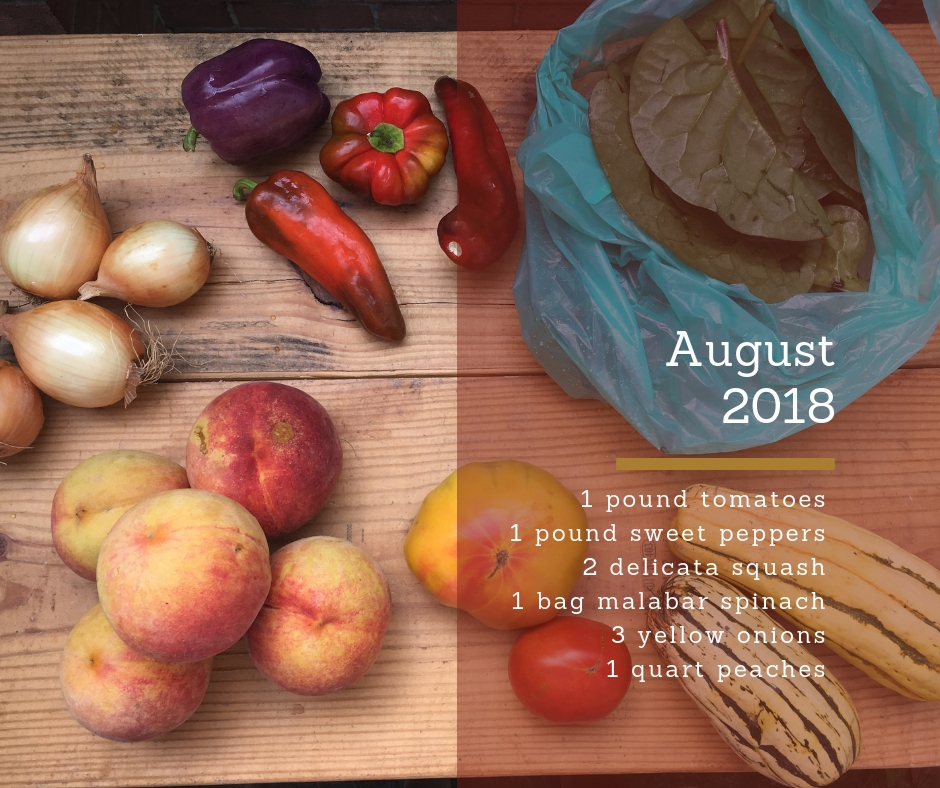 Is CSA membership a good fit for me?
Because the hallmark of any CSA is a seasonal commitment, we appreciate the amount of thought that goes into this question. In fact, the CSA model, which entails sharing the risks as well as the rewards with our farmers, is not for everyone. If you are on the fence about joining, ask yourself a few questions:
Am I up for trying new foods? Kohl-what-bi? It's very possible at some point you'll receive something you've never eaten—let alone cooked!—before. That's why we send CSA members weekly newsletters letting them know what to expect in their boxes and a few recipe suggestions to try. We're always available to answer questions about what's in your box and what to do with it. CSA members enjoy learning about new foods, and experimenting with new ways to prepare fresh fruits and vegetables.
Do I want to eat seasonally? Joining a CSA takes all the guesswork out of eating seasonally—if it's in your box, it's just-picked fresh, in-season, and delicious. CSA members truly eat with the seasons, enjoying fresh leafy greens, berries, and stone fruit throughout the summer, tomatoes in August, and hearty root vegetables and sturdy greens in the fall.
Do I want to support local farmers? Joining our CSA means that you are committing to standing by our farmers for the entire growing season, and that you are willing to accommodate the inherent risks (and rewards!) of farming. Too much or too little rain could mean a limited variety of fruits and vegetables in your box for a week or two, while a stretch of ideal weather conditions could result in bumper crop yields. CSA members are flexible, and take things as they come.
Do I want to be a part of my local food system? There are so many benefits to buying local food! For starters, local food tastes better and has more nutrients, because it's picked at its peak and gets to you faster. The environment also benefits; local food cuts out the middle man and shortens the distance your food travels, thereby reducing your carbon footprint. Investing in our farmers not only supports their efforts to be responsible 

stewards

of their land, but also ensures that local farmland stays out of the hands of developers. CSA members are passionate about where their food comes from, and about sustaining local farms so that future generations can also have access to fresh, healthy food.
I'm not able to cover the whole cost upfront. Do you offer payment plans?
We sure do! You can opt to pay in four installments. Find more info here.

I'm not able to pick up my share this week. What should I do?
If you are not able to pick up your share, you are welcome to have a friend pick it up. No prior notice is required, but it is your responsibility to ensure they follow pickup site protocol. If you know you will miss a pickup in advance, we'll happily donate your share to a Crossroads neighbor in need: just give us 48 hours advance notice through the online form linked in your weekly newsletter.

Can I cancel my CSA membership?
Please let us know if you are unhappy with your share and we will do our best to address your concerns. In most cases, we are able to work with our members to make their experience a great one.
Because our farmers have committed to growing enough food for the share you purchased, we are unable to provide refunds after the first few weeks (see CSA Member Agreement for exact date). In the event of cancellation, we will refund your original method of payment for the remaining weeks not delivered.
What to know more? Here's what our members are saying:
As members for the last two years, we can honestly say that each week of the season is an opportunity for delight and discovery. The produce, both gorgeous and delicious, couldn't be better, and the weekly newsletter provides abundant culinary inspiration. Being connected to a network that enables local farmers to make their living providing fresh produce and enjoying the weekly surprises in our CSA box is deeply rewarding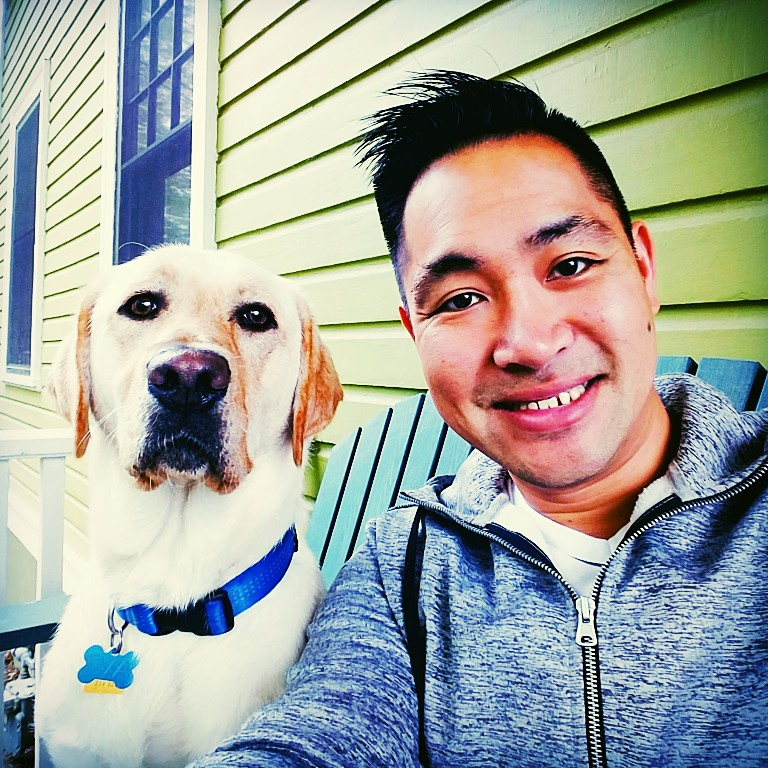 I LOVED the quality of the Crossroads CSA, and knowing that the fruit and vegetables come from farmers who really care about Crossroads made it that much better. My other favorite part was definitely the "market treat" – trying something different every other week was so unique and really added a personal touch I didn't have with other CSAs.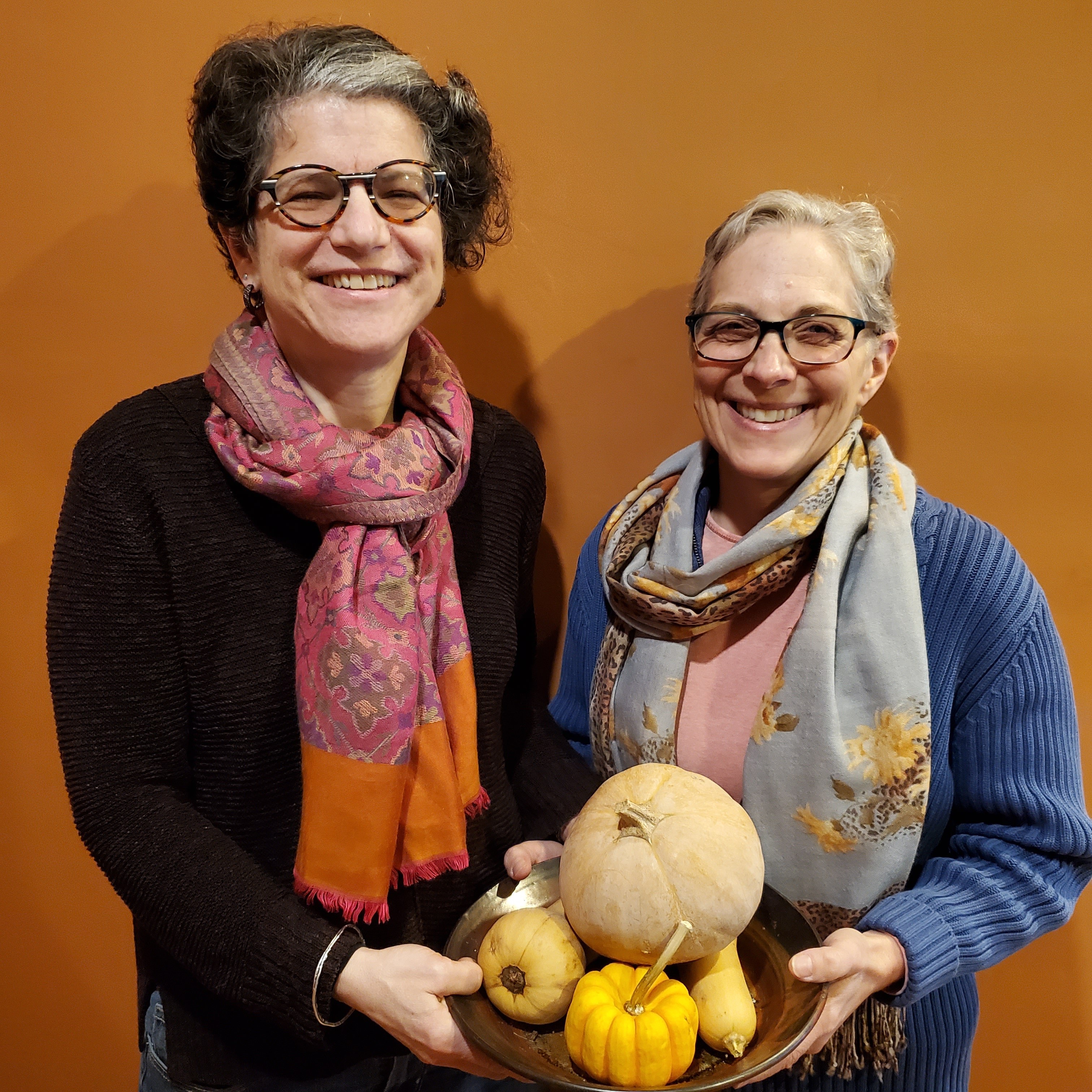 I grew up on a farm and didn't realize how much I would miss all that fresh, delicious produce once I moved to the 'city.' Luckily for me, Crossroads brings farm-fresh food right to my door. Tastes like home!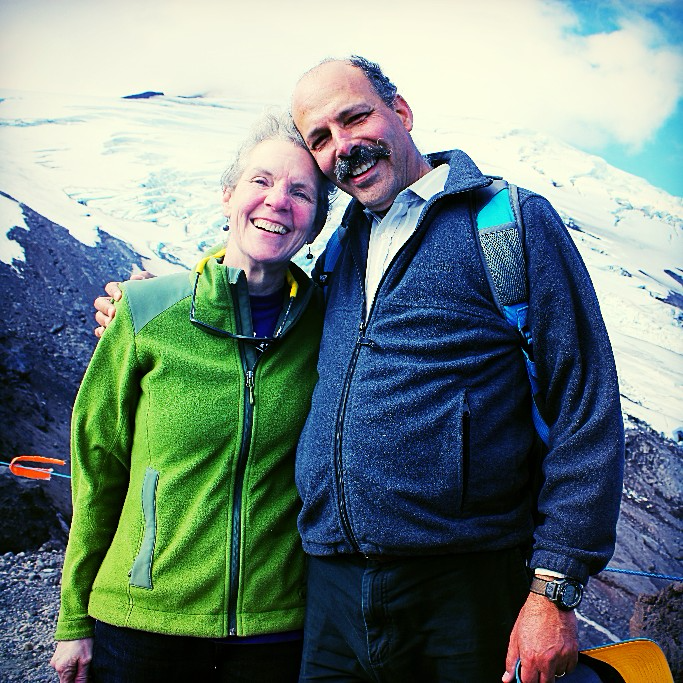 I love cooking with all of the fresh fruits and veggies grown by local farmers each week, and being able to support healthy food access in my community by buying a share makes it a win-win!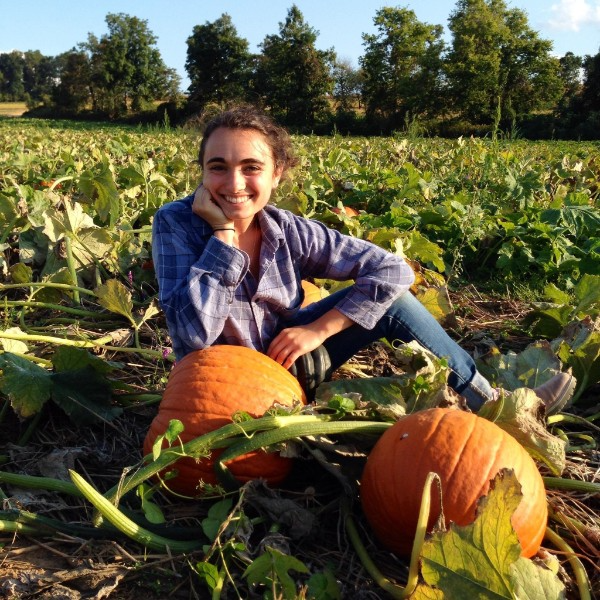 The Crossroads CSA has given us the chance to deepen our friendship as we share a box of produce every week. At first, we were careful to split the share evenly between our two families, but lately we have gotten creative. Franca turned a bunch of garlic scapes into garlic pesto. Diane took a beautiful fall pumpkin, and made pumpkin bread. Both families are benefitting from the produce, from our creative ways to share-the-share, and from more opportunities to connect as friends and neighbors. Thank you Crossroads!