Crossroads Farmers Market
May – December
Wednesdays, 11:00am to 3:00pm, rain or shine!
Crossroads is now closed, but will reopen May 31, 2017!
Location: Anne St. (between University Blvd. & Hammond Ave., across from the Rite Aid) Takoma Park, MD 20912
Please note: Market customers are not allowed to park in the Megamart parking lot or @ 1021 University Blvd office building next to the market. If they do, they will likely be towed. Those driving should park on Anne St, Hammond Ave, or in the side lane at University Blvd. Shuttle use and carpooling is encouraged.
Vendors
Community booth
Montoya's Farm
El Carreton: Homemade ice cream
Community lunch tables
Nancia's Antojitos: Guatemalan prepared food
Valle Produce
Kids' activities booth
Community lunch tables
Music
Sponsoring Crossroads Farmers Market is one of the best values around for promoting your business or organization. Last year the market saw nearly 1,200 visitors each week, and market shoppers spent more than $16,000 at nearby businesses. For a tiny fraction of that amount, you can greatly increase visibility of your business or organization, as well as showcase your commitment to giving back to our community. There are a range of support options, and we are also able to customize your package to best fit your desired support level.
Become a volunteer
Are you passionate about *everyone* in our community having access to fresh, healthy food? Want to develop professional skills and/or practice foreign language skills? Then join our volunteer team! We're now accepting
volunteer applications
 for the 2017 farmers market season, which begins on May 31 and runs through December 27. 
Positions
vary from bilingual Fresh Checks Assistant to Farmer Sales Associate to CSA Assistant to Market Chef, and more!
Most positions require a commitment on Wednesdays. 
We look forward to hearing from you!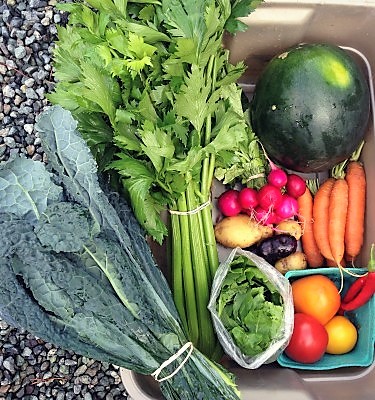 Join the Crossroads Multi-Farm CSA and not only will you receive delicious, locally grown fruits and vegetables from Crossroads farmers all through summer and fall, but also you'll become an essential part of our mission: to build a healthier, more inclusive food system in Maryland's Takoma/Langley Crossroads. Our CSA runs for 31 weeks, from May 31 through December 27—that's six more weeks than last year!—and it combines naturally grown produce, handmade products, and other farm-fresh goodies from multiple Crossroads vendors. Do your body—and your community—a whole lot of good. Sign up online today! Questions? Contact CSA Coordinator Liz Whitehurst at lwhitehurst@crossroadscommunityfoodnetwork.org.
---