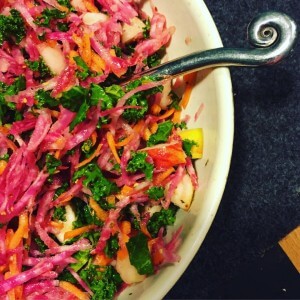 Ingredients:
3 bunches of kale, stalks removed and discarded, leaves thinly sliced 6 medium beets, peeled and grated
5 apples, cored and grated
1/3 cup extra-virgin olive oil
3 tablespoons honey Juice of 3 lemons
3 tablespoons chopped red onion (optional) Salt to taste
Directions:
In large serving bowl, add the kale, half the lemon juice, a drizzle of oil, and a little salt. Massage well until kale starts to soften and wilt, about 2–3 minutes. Set aside while you make the dressing.
In a small bowl, whisk remaining lemon juice with oil and honey.
Pour dressing over kale, add grated apples and beets, and toss until nicely coated in the vinaigrette.
Season with salt and pepper.